For a long time, women have been portrayed as subjects rather than creators in mainstream art. However, a new art movement emerged during the time of anti-war protests and various civil rights and gender movements across the globe. This art movement was characterised by themes of anger and liberation. As feminism continues to evolve, both the movement and art have expanded to incorporate a wider range of voices and perspectives.
During the early 1970s, female artists sought to challenge the traditional role of women in society. They questioned why men and women were portrayed differently and aimed to challenge male dominance in all aspects of life.
The First Wave feminist art movement represented a bold and radical departure from conventional norms. Vulnerability was portrayed as a strength rather than a weakness. For instance, Judy Chicago incorporated "women's work" into her art to celebrate women as domestic goddesses. This period also witnessed the fusion of painting and photography, which transformed the way art was perceived. Cindy Sherman's photographic self-portraits that parodied pop culture clichés defied stereotypical representations of women. Such innovative concepts that critiqued gender and identity marked a turning point in the art world.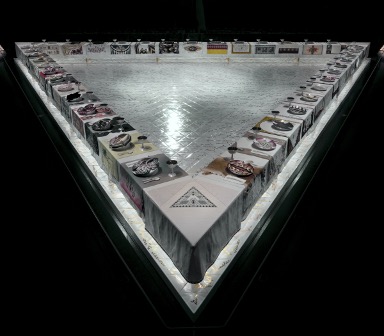 Image Source: Judy Chicago,
The Dinner Party
, Brooklyn Museum, 1974-79.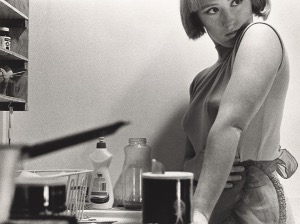 Image Source: Cindy Sherman,
Untitled Film Stills
, Museum of Modern Art, 1977.
The art style that originated in America brought together not only artists from different countries but also various other art movements. For example, it included German Dadaist Hannah Höch and Mexican Surrealist Frida Kahlo.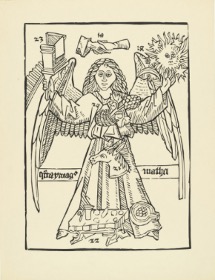 Image Source: Hannah Hoch,
The Prophet Matthew
, Museum of Modern Art, 191.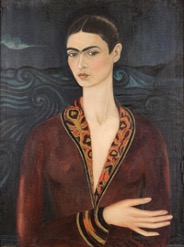 Image Source: Frida Kahlo,
Self Portrait in a Velvet Dress
, 1926.
Art created by contemporary feminist artists is characterised by its inclusivity and intersectionality. The work of well-known artists like Caroline Walker and Yayoi Kusama, who have gained recognition in the 21st century, explores socio-political issues and features intense and psychologically charged pieces that deal with themes like body image, race, ethnicity, and marriage, among others.
At The Arabian Gallery, our own artists have also explored feminist themes in their recent works. Take a look at
Mai Majdy's
breathtaking collection of paintings, which showcase the lives of indigenous women and reflect their culture. Additionally, you can view
Almudena Angoso's
collection which include "Whispers" and "Letting Go,"
Khulood Aljaberi's
"Burqaa Face" series, and
Ghassan Mahfouz's
"Maternity."
We appreciate you taking the time to read our blog post. Enhance your collection with the exquisite artwork available at our gallery. You can view our collection of stunning photographs, paintings, and sculptures on our website. Upon checkout use a special discount by using the code
FESTIVE10
.
Promotion valid for a limited period only.
Feature image: Mai Majdy